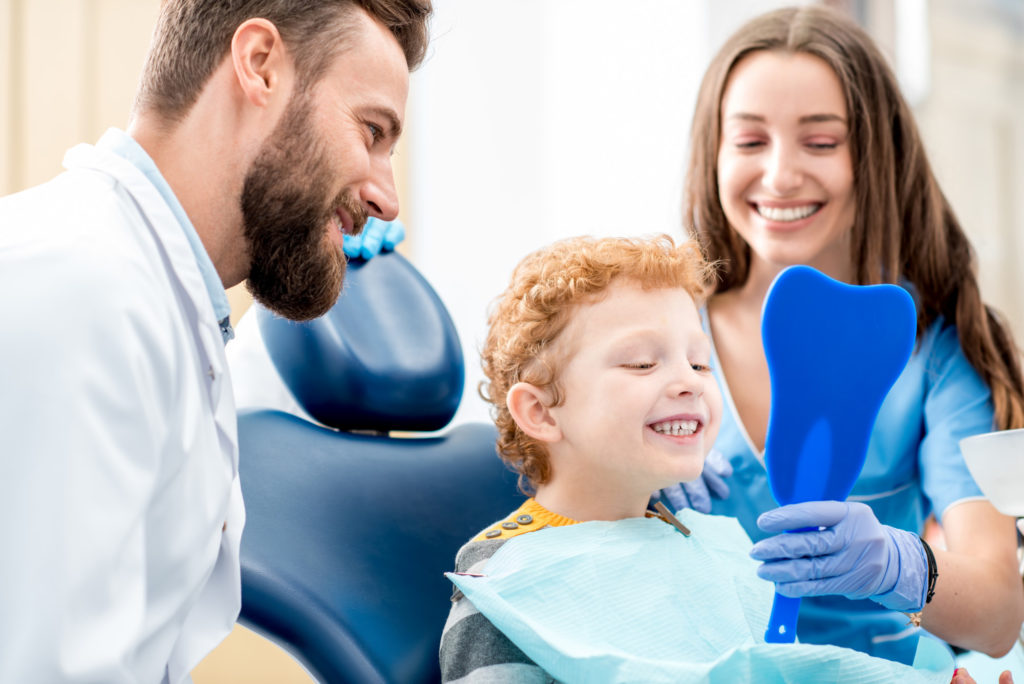 A Parent's Guide to Children's Oral Health
Maintaining oral health is a vital part of your child's overall well-being. This includes everything from brushing the right way and eating the right foods to regularly visiting the dentist and undergoing necessary cosmetic dentistry based on the professional's evaluation.
Understanding the importance of oral health and the recommendations suggested by a children's dentist are several keys to maintaining oral health. To celebrate National Children's Oral Health Month 2020, we share with you a few tips to help your child take care of their teeth.
What is the importance of Oral Health?
Growing children must essentially have a healthy mouth. This is to keep their smiles bright and at the same time prevent toothaches, cavities, and tooth decay. As soon as your child develops their first tooth, you must strive to establish a proper oral hygiene routine.
When children undergo tooth pain owing to cavities and decay, it can lead to discomfort with oral hygiene. Therefore, developing an oral hygiene routine early is suggested to keep issues at bay and maintain a more confident relationship with the kids' dentist.

How to Develop an Oral Health Routine at Home?
It isn't difficult to boost your dental care routine. Start by letting your child know how important it is to have a healthy mouth and teeth. Buy them a toothbrush of their choice to make them love the routine of brushing. If they like their toothbrush and know it has been purchased as per their choice, they tend to feel responsible for their hygiene.
Sing a two-minute song while brushing to ensure that they spend enough time cleaning their gums, tongue, and teeth. Moreover, remember to schedule professional dental cleaning sessions with the children dentist in Brampton and Caledon to avoid potential problem areas.
How to Prevent Tooth Decay in Children?
Tooth decay can affect people of all ages. It isn't only the adults that suffer from such a problem when they arrive on the dentist's chair. Babies and young children can also have caries or cavities. Luckily, preventing cavities in children is easy. All it requires is proper care and attention.
5 simple tips to prevent tooth decay and future dental problems
Develop a Brushing Routine
Establishing good oral hygiene at a younger age will let your child maintain a good habit for the rest of their life. Highlight the essence of brushing twice daily along with flossing. Besides, remember to emphasize on the brushing technique so that they are doing it right and know where they need to focus.
Teeth whitening is a great way to restore the brightness of a sparkling smile. If brushing and flossing aren't giving results, you can opt for the cosmetic procedure to remove food stains and thereon maintain oral hygiene for a confident, clear, and white smile.
Restrict Sugar Consumption
If your child has good brushing habits and yet there are traces of tooth decay, you need to examine their diet. Food consumption is another factor that causes tooth decay. Tooth enamel frequently exposed to acids weakens with time and develops cavities. Give your children healthier alternatives instead of fruity drinks or sugary soda. This will preserve tooth enamel and promote dental health.
Toothpaste
While brushing is important, the toothpaste you use also plays an important role in maintaining healthy teeth. Look for a toothpaste with fluoride. Today, the dental market has flavored versions that encourage children to look forward to a delicious brushing regime. Get your child's favorite flavored toothpaste and help them to start enjoying their brushing habit even more.
Lead by Example
Young children often follow in their parents' footsteps, particularly the behaviors they see regularly. Show your children how you care for your teeth and what all you do to maintain them. This will help them learn the importance of oral hygiene without you having to say much. When they see that healthy teeth lead to improved confidence, lesser toothaches, and a beautiful smile, they will know that healthy teeth are beneficial.
If your child's teeth do not grow uniformly in one plane or if they experience the absence of teeth, visit the dentist for dental implant procedures just like you would have visited them for your dental crown treatments.
Schedule Dental Appointments
Milk and formula may not seem to have any harmful effects but they both lead to corrosion. This means that it is vital for you to make regular dental visits with your child, even when he or she is as young as 12 months old. Frequent visits to the dentist can help you identify troubles at the early stages and prevent cavities.
Children should meet a children's dentist no later than age 4. If you notice any symptoms like difficulty in chewing or biting, thumb or finger sucking, teeth that overlap or not meet at all, or irregular loss of baby teeth, an orthodontist will help you understand the appropriate course of remedy. The dentist can also help you determine if your child requires Invisalign to achieve the right shape and alignment of teeth.
Emergency Dentist
The chances of growing children meeting with an injury or accident causing tooth damage are high. This means that you need to visit an emergency dentist like Mayfield Dental immediately. Mayfield Dental provides 24/7 services to help you treat your child's tooth damage and perform a tooth extraction if need be.
To conclude:
Early dental care in Brampton and the GTA is essential for developing good oral hygiene in your children. Give children dentists at Mayfield Dental a chance to check your child's teeth and regularly advise how they can maintain healthy teeth. Experts here know how to give your child an enjoyable experience and not make any of the dental procedures.
With a comprehensive dental care practice, you can rest assured that your child will not have acute dental problems and the need for emergency dentistry to interceptive orthodontics will reduce.
At Mayfield Dental Clinic in Brampton and Caledon we offer convenient online appointment booking via our website. We are open 6 days a week, Monday to Saturday. To book appointment for your kids or family on the phone, you can reach us at 905.840-0225. For all emergency dentist walk-in, we are located at 3068 Mayfield Rd. Unit #6 Brampton, ON, L6Z 0E3. You can also find us on Google Maps here: https://g.page/mayfield-dental