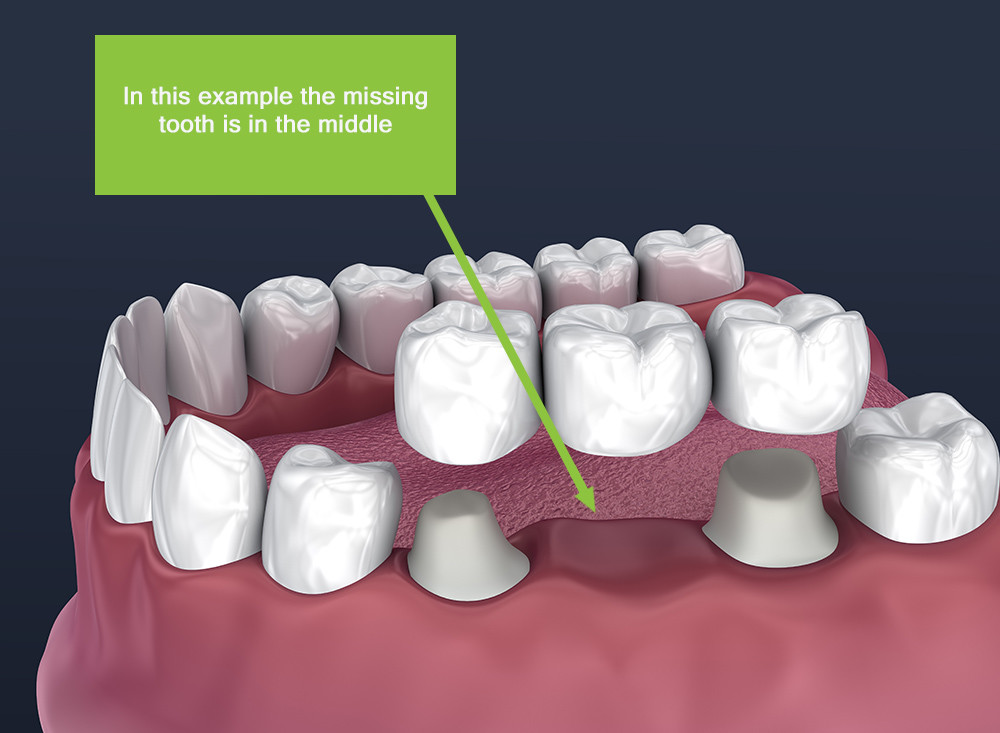 What Are Dental Crowns And Dental Bridges?
A dental bridge is used to close or bridge the gap in your smile. It is the perfect solution for patients who have missing teeth. In simple words, a dental bridge is a false tooth. It is a fixed prosthetic device.
Dental bridges are different from removable devices like dentures. The main difference is the fact that dentures can be removed for daily cleaning whereas bridges and crowns are cemented onto existing teeth or implants. They are supported by the teeth existing on either side of the gap and can be removed only by a dentist.
How do Dental Bridges work?
A dentist will recommend a bridge to patients who have one or more missing teeth. Generally, remaining teeth start to rotate or shift into empty spaces created missing teeth. This can lead to a bad bite. Moreover, the imbalance caused by gaps can also result in temporomandibular joint (TMJ) disorders and gum disease.
Bridges spread across the gap created by missing teeth. The procedure to embed bridges into the jawbone requires cementing them to the natural teeth or implants. The natural teeth that provide support to the bridges are called abutments. They serve as the anchor for the bridge. Crowns are attached to the abutments or natural teeth near the gaps created by missing teeth. A pontic or replacement tooth is attached to these crowns.
The material for bridges can be chosen as per the patient's choice. You can consult your dentist or your children's dentist to understand which material is suitable for you. The decision will be based on the location of the missing tooth, its function, aesthetics, and cost. The most common material for the bridges is porcelain or ceramic. These materials can be matched as per your natural teeth's color.
Types of Dental Bridges
When you visit a dental clinic, you will see four types of dental bridges. These are:
Traditional Dental Bridge
This is the most common type of dental bridge used to fill a gap. To use a traditional dental bridge, you must have natural teeth on both sides of the gap. These are required to provide support to the bridge implanted by the dentist. Dental crowns are fastened onto both the abutment teeth to ensure that the dental bridge is held in place.
Cantilever Dental Bridge
A cantilever dental bridge doesn't need natural teeth on either side of the gap. It can be fixed with the support of one natural tooth. A cantilever dental bridge is placed using the dental crown cemented to one of the abutment teeth.
Maryland Dental Bridge
This type is similar to the traditional bridge. It makes use of two natural teeth on both sides of the missing tooth. A traditional bridge makes use of dental crowns on the abutment teeth whereas the Maryland bridge utilizes a framework cemented onto the backs of the abutment teeth. This framework is made using metal or porcelain.
For the implantation of a Maryland dental bridge, an emergency dentist requires an existing tooth on both sides of the gap.
Implant-supported Dental Bridge
As mentioned in the name, this dental bridge makes use of dental implants instead of frameworks or crowns. A dentist will surgically place an implant for each missing tooth and the bridge will be held in its position with the support of these implants. If it is not possible to place an implant for every missing tooth, the bridge might have a pontic suspended between two implant-supported crowns.
The most stable and strongest type of dental bridge is the implant-supported bridge. Typically, it requires two surgeries:
To place the implants for every missing tooth
To place the bridge
This procedure is slightly longer and can take a couple of months for completion.
How do Dental Crowns work?
The purpose of a crown is to cap or cover a damaged tooth. When a tooth is damaged beyond repair, you have no choice but to go for tooth extraction. However, in certain cases, you can strengthen the tooth using a crown. Moreover, a crown helps to enhance the shape, alignment, and appearance of the tooth. A crown can be positioned above an implant to create a tooth-like shape and structure for function.
The most common materials used for crowns are porcelain and ceramic. You can also buy crowns made of gold and metal alloys or acrylic. Crowns made of alloys are stronger as compared to porcelain and may be recommended for use for back teeth.
A crown is recommended by the dentist when you need to:
Replace a large filling in the absence of enough tooth
Avoid the fracturing of a weak tooth
Restore a fractured tooth
Position a dental bridge
Cover a dental implant
Hide a tooth that has undergone root canal treatment
Hide a poorly shaped or discolored tooth
Benefits of Bridges and Crowns
Bridges and crowns fill the gap in your teeth. They strengthen a damaged tooth. Additionally, they improve the appearance, shape, and alignment of a tooth. Most kids' dentists suggest braces or Invisalign to fix the alignment of the teeth. However, when there are gaps caused by missing teeth, dental bridges and crowns are the best solutions.
It is suggested that you opt for the dental bridge procedure as soon as you observe gaps. This is because remaining teeth can shift and lose their alignment by rotating into the empty spaces. As a result, you can experience a bad bite. Bridges and crowns avoid this from happening.
How much does a dental bridge cost?
Dentists at Mayfield Dental perform different cosmetic dentistry procedures such as dental cleaning, teeth whitening, and more to help patients in Brampton and Caledon enjoy a beautiful smile. The price for each of these services varies. In the case of a dental bridge as well, the cost is affected by several variables:
Number of missing teeth
Level of difficulty in placement
Geographic location
Additional procedures like other dental problems, like gum disease
Materials used
The charges are also dependent on the type of dental bridge you select.
Contact us today, at Mayfield Dental Clinic in Brampton and Caledon we offer convenient online appointment booking via our website. We are open 6 days a week, Monday to Saturday. To book an appointment for your kids or family on the phone, you can reach us at 905.840-0225. For all emergency dentist walk-in, we are located at 3068 Mayfield Rd. Unit #6 Brampton, ON, L6Z 0E3. You can also find us on Google Maps here: https://g.page/mayfield-dental